Diamond Painting Kits
Welcome to the world of your new sparkling hobby - painting by diamonds. We're happy to offer you our quality diamond painting kits. It comes with a detailed full drill canvas, attractive pictures, and promises numerous hours of simple joy and amusement.
Top-Quality Diamond Art Kits
We have the quality of our kits as the topmost priority. Be it the self adhesive canvas, square or round diamonds or accessories, we want you to enjoy this amazing hobby as much as possible.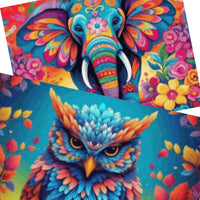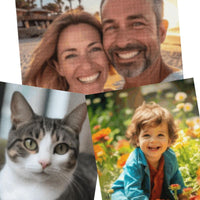 Custom Diamond Painting
Painting with diamond is a wonderful hobby. You'll love working on a full drill canvas made from your favorite photo. Square diamonds or round diamonds, it's all up to you. It can your baby, husband or a picture from vacation. The finished artwork can be an absolutely beautiful personalized gift.
Shop now
Diamond Painting Drills
We love the shiny little things called "drills". Both our square drills and the round drills are made of high-quality resin and are precisely faceted to provide an amazing sparkling look of our paintings.
More facets bring more fun with the awesome dazzling and sparkling effect.
Whether you buy the round or square diamonds, the result of your art will be awesome.
We understand how hard it is to work with them. That's why our "Free Drill Loss Guarantee" ensures you can always come back to us in case you've lost any diamonds.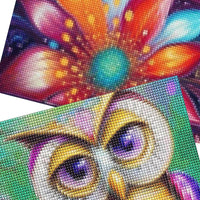 Diamond Painting Kits for Adults
We at Diamond Art World® are dedicated to providing you the best product with hours of entertainment and joy and we make our best so that you can get high-quality diamond painting kits for a fair price with a great customer service guarantee. This is why you can always contact us with any questions and concerns regarding our products. Further, to make our promise complete, we offer the following:
- You get a response from our customer care guys within 24 hours
- You get a "FREE SPILL" guarantee for your diamond painting kit. It means anytime it happens to you, that some of those tiny little drills were spilled or lost, we replace them free of charge
- You didn't find the right one from the diamond art kits that you'd like to order, but you have a picture of it, wait no more. Get a Custom Diamond Painting Kit here.

Very similar to the famous paint by numbers, painting by diamonds with its difficulty level took the hearts of many arts and craft enthusiasts and it's become their new favorite hobby. The way you're working towards a complete canvas is both an exciting and a wonderful journey. Drill by drill, the picture pops up slowly out of nowhere and your concentrated and focused work starts to pays-off in this relaxing hobby. It's actually very similar to cross stitch sowing.
It all starts by choosing a beautiful picture that you like. If you're just starting with painting with diamonds, you rather select a smaller-sized canvas. The diamond painting kits on our website start at 30 x 40 cm. We don't go for smaller canvases as it doesn't produce the results we want to see. Such paintings would get blurry and wouldn't be detailed enough. Most people choose nature, animals or flowers as the topic of the their new artwork. Some of our customers love the canvas kits with more fantasy - dragons, fairies or abstract art. Get yours now and create your own masterpiece!
Especially the custom diamond paintings need bigger canvas size to display the face details together with the entire picture. The custom art is often made of real photos which depict things in a lot of details.
read more

close
Frequently Asked Questions
There's an easy answer to this question - right here at our website. We're happy to tell you everything you need to know about this awesome artistic hobby. You basically don't need anything else than to order your first kit. Each kit includes all that you need to work. You'll find in-depth information about diamond painting tools in our blog.
In comparison to painting by numbers, or cross-stitching, the painting by diamonds is actually easier. It's even great for kids to train their focus, patience and concentration.
When you look at the picture, you can consider the skill level by the number of details and the canvas size.

Check our blog to learn more about What is Diamond Painting.
Yes. First of all, think about the canvas size. The larger it is, the more complicated it may get and the longer it takes to finish. We recommend for starting users to select smaller canvas sizes and advanced users can enjoy the result of the bigger ones.
We normally confirm the order within 1 business day. Production, quality check and shipping takes 2-3 days. Then the average shipping time of the diamond painting kits is 15 days.