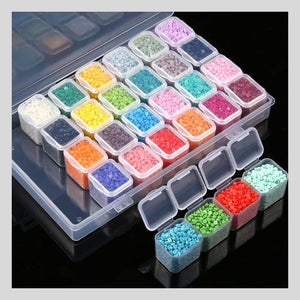 Diamond painting requires a lot of colorful drills. With more paintings done, you will always have some leftovers which you can keep for next projects.
This transparent storage box for diamond painting drills is a great way to keep your drills tidy and have them at hand when needed!
Free Box for Diamond Art Drills
Very Satisfied
This is the first time I've ordered a custom painting from this company. Helen in Customer Service was very helpful. The painting came right on time with the free box as promised. Both the canvas and the gems were good quality. I would not hesitate to order from them again.